Denim Textile Bleaching System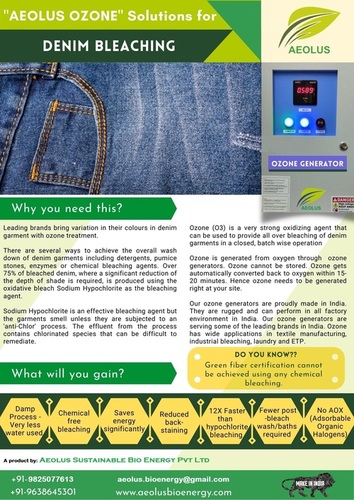 Denim Textile Bleaching System
Price And Quantity
Plant/Plants

45000.00 - 450000.00 INR
Product Specifications
Ozone generator

220 or 410 Volt (v)
Product Description
Denim Bleaching System by Aeolus
Aeolus is a leading suppliers of Ozone Generators and ETP plants for textiles across India.
As you are aware, "Leading brands bring variation in their colours in denim garment with ozone treatment. We supply this ozone generator system."
Ozone (O3) is a very strong oxidizing agent that can be used to provide all over bleaching of denim garments in a closed, batch wise operation.

Reputed denim producers of India are using our high capacity ozone generators for fabric bleaching right during production on large scale. Our systems offer controlled bleaching.
Ozone bleaching does not need multiple washing and hence it also saves water in textile process. Effluent generated from Ozone bleaching is oxygen rich water only. No hazardous chemical residues either on fabric or in ETP!
There are several ways to achieve the overall wash down of denim garments including detergents, pumice stones, enzymes or chemical bleaching agents. Over 75% of bleached denim, where a significant reduction of the depth of shade is required, is produced using the oxidative bleach Sodium Hypochlorite as the bleaching agent. But new generation customers don't prefer chemically bleached fabrics on their body!
The effluent from the process contains chlorinated species that can be difficult to remediate.
Ozone, as you may be aware is generated from atmospheric oxygen through an equipment called ozone generator. Ozone cannot be stored. Ozone gets automatically destroyed within 15-20 minutes. Hence ozone needs to be generated right at your site. China is now the leading supplier of ozone generators in India. However Chinese ozone generators cannot perform well in India because our climate in India is fairly hot and humid as compared to China and hence their electronics fail to perform in India
Our ozone generators are proudly made in India. Our ozone generators are rugged and can perform in all factory environment in India. Our ozone generators are serving some of the leading brands in India.
Advantages of using Ozone in Bleaching Process
Bleach process is damp - much less water used

Fewer chemicals used in bleaching

Ozone ultimately degrades to oxygen and requires no liquid effluent treatment

Ozone bleaching process is faster than sodium hypochlorite bleaching

Fewer post-bleach wash baths required

Less energy required to heat water

Lower volume of effluent / lower effluent loading

Reduced back-staining

No AOX (adsorbable organic halogens)



Are you willing to adopt Ozone or get more information on ozone? Contact us now!
Product Details:
| | |
| --- | --- |
| Automation | Semi-Automatic |
| Brand | AEOLUS |
| Installation | Portable |
| Power Source | Electrical |
| Type | Ozone Generator |
Trade Information
1 Week

Contact us for information regarding our sample policy
All India, South India, Central India, North India, East India, West India, Andaman and Nicobar Islands, Andhra Pradesh, Assam, Arunachal Pradesh, Bihar, Chhattisgarh, Chandigarh, Delhi, Dadra and Nagar Haveli, Daman and Diu, Gujarat, Goa, Haryana, Himachal Pradesh, Jammu and Kashmir, Jharkhand, Karnataka, Kerala, Lakshadweep, Madhya Pradesh, Maharashtra, Mizoram, Meghalaya, Manipur, Nagaland, Odisha, Punjab, Pondicherry, Rajasthan, Sikkim, Tamil Nadu, Telangana, Tripura, Uttar Pradesh, Uttarakhand, West Bengal