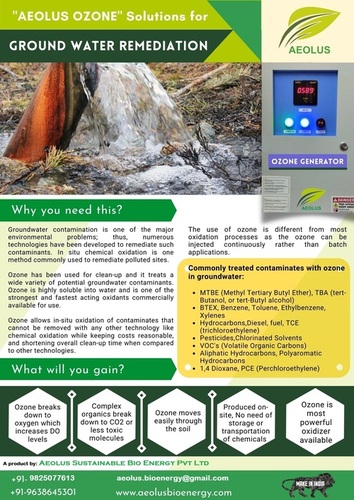 Ground Water Remediation with Ozone by Aeolus
Price And Quantity
Product Specifications
Product Description
At Aeolus, we offer noteworthy products like Ozone Generators which are used comprehensively in various water treatment applications including Ground Water Remediation.
Globally, between 25 per cent and 40 percent of the world's drinking water is drawn from boreholes and dug wells. Ground water is also used by farmers to irrigate crops and by industries to produce everyday goods. Most groundwater is clean, but groundwater can become polluted, or contaminated as a result of human activities or as a result of natural conditions.
Groundwater contamination is one of the major environmental problems; thus, numerous technologies have been developed to remediate such contaminants. In situ chemical oxidation is one method commonly used to remediate polluted sites. The use of ozone is different from most oxidation processes as the ozone can be injected continuously rather than batch applications.
Ozone has been used for clean-up and it treats a wide variety of potential groundwater contaminants. Ozone is highly soluble into water and is one of the strongest and fastest acting oxidants commercially available for use. Ozone allows in-situ oxidation of contaminates that cannot be removed with any other technology using in-situ chemical oxidation while keeping costs reasonable, and shortening overall clean-up time when compared to other technologies.
Commonly treated contaminates with ozone in groundwater
MTBE (Methyl Tertiary Butyl Ether), TBA (tert-Butanol, or tert-Butyl alcohol)

BTEX, Benzene, Toluene, Ethylbenzene, Xylenes

Hydrocarbons,Diesel fuel, TCE (trichloroethylene)

Pesticides,Chlorinated Solvents

VOC's (Volatile Organic Carbons)

Aliphatic Hydrocarbons, Polyaromatic Hydrocarbons

1,4 Dioxane, PCE (Perchloroethylene)



Key Ozone benefits in ground water remediation:
12 times more soluble than oxygen in water

Moves easily through the soil

Produced on-site, no need for hazardous chemical transportation or storage

Most powerful oxidizer available

Complex organics break down to carbon dioxide or less toxic molecules

Breaks down to oxygen which increases DO levels



Ozone is easy, however, the proper application of ozone is not easy. Aeolus is one of the few companies dedicated to providing ozone equipment, system integration, and comprehensive service for your project.
Contact us now for your Ground Water Remediation Requirements!
Trade Information
1 Week

West Bengal, Uttarakhand, Uttar Pradesh, Tripura, Telangana, Tamil Nadu, Sikkim, Rajasthan, Pondicherry, Punjab, Odisha, Nagaland, Manipur, Meghalaya, Mizoram, Maharashtra, Madhya Pradesh, Lakshadweep, Kerala, Karnataka, Jharkhand, Jammu and Kashmir, Himachal Pradesh, Haryana, Goa, Gujarat, Daman and Diu, Dadra and Nagar Haveli, Delhi, Chandigarh, Chhattisgarh, Bihar, Arunachal Pradesh, Assam, Andhra Pradesh, Andaman and Nicobar Islands, West India, East India, North India, Central India, South India, All India