Domestic Water Tank Ozone Generator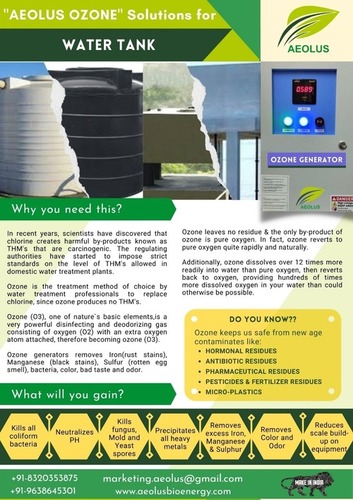 Domestic Water Tank Ozone Generator
Price And Quantity
Product Specifications
Electronic Corona Discharge

GRP
3 - 1200 Gram per litre (g/L)

2 Ampere (amp)
Product Description
Domestic water tank Ozone Generator by Aeolus
Aeolus offers you the most effective and efficient system for your Domestic water tank.

Ozone generators removes Iron (rust stains), Manganese (black stains), Sulfur (rotten egg smell), bacteria, color, bad taste, heavy metals, pharmaceutical residues, hormone residues, micro-plastics, pesticide residue, fertilizer residues and odor from your household water. All this residues in your drinking and bath water are a health hazard for your family. Recent reports suggest that most of this contaminants are available in all water sources!
Our State of the Art ozone generators assures you the highest quality water yet requires very little maintenance.
In recent years, scientists have discovered that chlorine creates harmful by-products known as THM's that are carcinogenic. The regulating authorities have started to impose strict standards on the level of THM's allowed in domestic water treatment plants. Ozone is the treatment method of choice by water treatment professionals to replace chlorine, since ozone produces no THM's.
Ozone (O3), one of nature`s basic elements is a very powerful disinfecting and deodorizing gas consisting of oxygen (O2) with an extra oxygen atom attached, therefore becoming ozone (O3).

The only by-product of ozone is pure oxygen. In fact, ozone reverts to pure oxygen quite rapidly and naturally: The half-life of ozone in air is on the order of hours and on the order of minutes when dissolved in water. Additionally, ozone dissolves over 12 times more readily into water than pure oxygen, then reverts back to oxygen, providing hundreds of times more dissolved oxygen in your water than could otherwise be possible. This high oxygen content of your water provides many of the same benefits made possible with our ozonisation system.
Noticeable benefits of our Ozone Generators are:
It kills all coliform bacteria on contact, thousands of times faster than chlorineor bromine.

It Neutralizes PH.

Ozone Kills fungus, mold and yeast spores.

It precipitates all heavy metals

It removes excess iron, manganese, and sulphur by a process known as micro-flocculation,thus conditioning the water naturally without chemical additives.

It Removes color and odor, leaving a pure, healthy water.

It reduces scale build-up on equipment such as pipes and water heaters, and staining of showers, sinks, bathtubs and toilets.

Ozone leaves no residue, it`s only by-product is pure oxygen.



Contact Aeolus now if you really care for your health!
Domestic Water Tank Ozone Generator Details:
| | |
| --- | --- |
| Automation | Semi-Automatic |
| Brand | AEOLUS |
| Condition | New |
| Power Source | Electrical |
| Type | Ozone Generator |
Trade Information
Contact us for information regarding our sample policy

Middle East Africa Asia
Himachal Pradesh Sikkim Tripura Manipur Nagaland Uttarakhand Daman and Diu Dadra and Nagar Haveli South India East India West India Andaman and Nicobar Islands Assam Arunachal Pradesh Bihar Chandigarh Delhi Goa Jammu and Kashmir Jharkhand Karnataka Maharashtra Mizoram Meghalaya Punjab Pondicherry Rajasthan Tamil Nadu Telangana Haryana Lakshadweep Uttar Pradesh Gujarat West Bengal Madhya Pradesh North India Andhra Pradesh Kerala Central India Odisha Chhattisgarh All India