Industrial Water Disinfection System by Aeolus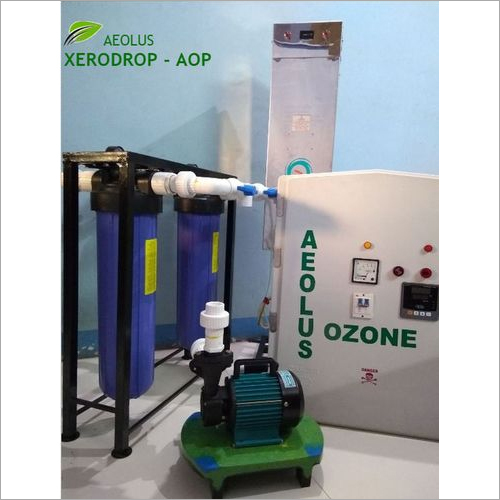 Industrial Water Disinfection System by Aeolus
Price And Quantity
Product Specifications
Product Description
Industrial Water Disinfection System by Aeolus
Aeolus is India's most innovative supplier of Ozone and UV Systems for Industrial Water Disinfection Systems.Ozone and UV are well known products, however effective combination of these two technologies make Aeolus a master in water disinfection. Our XERODROP AOP is a trust worthy name in industrial water disinfection system.
Aeolus XERODROP AOP has various applications for water disinfection in industries:
Process water disinfection for food, pharmaceuticals, dairy and chemical industries

Resin and other dry-fruits process plants in ice-cream and food industries

Drinking water disinfection for industries, offices, hospitals and community centres

Bio-fouling control in cooling towers

Fire water fouling control for buildings & industries

Treated wastewater disinfection before recycling,

Discharge water disinfection for bio-contamination control

Culture & live micro-organism spillage control

Surface cleaning with disinfected water

Laundry disinfection

Disinfected water for various industrial processes



There are many uses of water in industry and, in most cases; the used water needs treatment to render it fit for re-use or disposal. Raw water entering an industrial plant often needs treatment to meet tight quality specifications to be of used in specific industrial processes. Hence disinfection of water is crucial and many a times critical.
The disinfection of industrial water provides a degree of protection from contact with pathogenic organisms. Disinfection is a process where a significant percentage of pathogenic organisms are killed or controlled.
Disinfection can be attained by means of physical or chemical disinfectants. The agents also remove organic contaminants from water, which serve as nutrients or shelters for microorganisms.
Aeolus has developed a solution for industrial water disinfection using advanced oxidations processes based technology, which, comprises of Ultra violet radiation, filtration and Ozone Generation System. Our XERODROP AOP Disinfection system can be readily installed to a side-stream of an existing water treatment system or in-line.
We also supply stand-alone ozone generators, UV radiation system and filters for industrial requirements.
Disinfection of water using ozone or XERODROP AOP is advantageous compared to traditional methods, such as chlorine or other chemicals. Firstly, ozone is more effective at deactivating viruses and bacteria than any other disinfection treatment, while at the same time requiring very little contact time, thus reducing the overall treatment residence time while simultaneously leaving no chemical residues.
Due to the high oxidation potential,ozone will effectively degrade microbes and virus, causing cell membrane rupture and decomposition of essential biomolecular components in for example bacteria. As can be seen in the image below ozone can be used to oxidize hydrocarbons of cellular lipid bi-layers to kill contaminant microbes.
There are essentially no harmful residuals from ozone use, as ozone undergoes a natural decomposition in water. Ozone treatment also prevents re-growth of micro-organisms, provided that the other processes in the disinfection process have been successful in reducing particulates in the wastewater stream. Ozone is also produced on site and does not require shipping or handling, thus removing complications like safety and environmental issues associated with chemical handling.
Contact Aeolus for a novel Disinfection technology in Industrial Water.
Product Details:
| | |
| --- | --- |
| Automation | Semi-Automatic |
| Brand | AEOLUS |
| Condition | New |
| Power Source | Electrical |
| Type | Ozone Generator |
Trade Information
Contact us for information regarding our sample policy

All India, South India, Central India, North India, East India, West India, Andaman and Nicobar Islands, Andhra Pradesh, Assam, Arunachal Pradesh, Bihar, Chhattisgarh, Chandigarh, Delhi, Dadra and Nagar Haveli, Daman and Diu, Gujarat, Goa, Haryana, Himachal Pradesh, Jammu and Kashmir, Jharkhand, Karnataka, Kerala, Lakshadweep, Madhya Pradesh, Maharashtra, Mizoram, Meghalaya, Manipur, Nagaland, Odisha, Punjab, Pondicherry, Rajasthan, Sikkim, Tamil Nadu, Telangana, Tripura, Uttar Pradesh, Uttarakhand, West Bengal