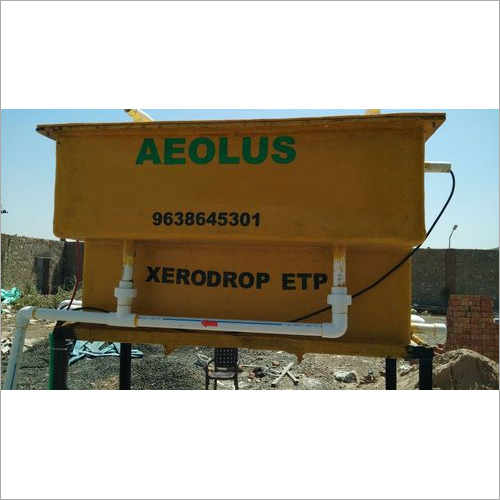 Laundry Water Treatment Systems From Aeolus
Price And Quantity
Product Specifications
Effluent Treatment Plants

Semi Automatic
Product Description
Laundry Water Treatment Systems From Aeolus
Laundry can use all of our water treatment systems such as water softener-XEROSCALE,ozone generator AEOLUS OZONE, wastewater treatment systems- XERODROP, onsite hypochlorite generator-AEOLUS CHLOR. Aeolus also supplies filters for input and output water in laundry.
Brief applications of Aeolus systems for commercial laundry are as following:
XEROSCALE: India's first intelligent water softener. Our tag line is NO SALT-NO MAINTENANCE-NO ZANZAT (hardship). Soft water improves texture and softness of washed cloth and reduces detergent consumption. XEROSCALE removes old and stops new scale formation in all laundry equipments and pipelines. XEROSCALE handles hardness up to 1600 ppm! Contact us now!

AEOLUS OZONE: Aeolus is India's leading 100% Made in India - ozone generators for all industrial and commercial needs. Ozone is a strong oxidizing agent and hence it enhances the activity of enzymes in several laundry detergents. Ozone is also a mild bleaching agent for white laundry. Ozone acts as disinfectant for hospital and home laundry. Ozone reduces detergent consumption by about 30% for commercial laundry. Ozone produces oxygen rich water for laundry that behaves as soft & sparkling water. Contact us now for Ozone.

XERODROP ETP/STP: Environmental norms are very stringent now even for small laundries. Laundry uses several surfactant and detergent and bleaching agents. All this lead to tough effluent for treatment. Biological systems cannot perform with all above chemicals to meet the treatment norms specified by CPCB. XERODROP is non-biological - plug & play - zero chemical consumption - highly compact wastewater treatment that generates recyclable water for reuse in laundry. Contact us now for XERODROP ETP for your laundry!
AEOLUS CHLOR: Laundry uses hypochlorite, but commercial grade brought out hypochlorite loose its available chlorine content rapidly. Hence, we supply Electro-chlorinators for commercial laundry that generates most appropriate concentration of available chlorine for bleaching. Hypochlorite is generated at laundry from common salt and soft water. Generated hypochlorite is very compact and cost effective for commercial laundry. Aeolus Chlor eliminates hazards and troubles associated with handling and storage of commercial hypochlorite.
Filters: Aeolus offers various types and capacity filters for pre and post treatment of laundry input and output water. We supply, disc filters, bag filters, glass bead micronfilters, mix bed filters etc.

FILTRASOFT: FILTRSOFT is a novel concept of Aeolus - a perfect combo of micron filtration with softening. FILTRASOFT offers standard and tailor made flow rates for laundry. FILTRASOFT can handle maximum water hardness up to 500 ppm. FILTRASOFT is a compact and cost effective water filtration and softening solution for laundry.
Product Details:
| | |
| --- | --- |
| Features | Most advanced comprehensive waste water treatment |
| Feed Flow Rate | 2000 m3/day, 1000 m3/day, 50 m3/day, 500 m3/day, 1 m3/day,10 m3/day, 100 m3/day |
| Capacity Inlet Flow Rate (cubic meter/hour) | 100 m3/hour |
| Usage/Application | Waste Water Treatment ZLD |
| Water Source | Municipal Sewage, Hazardous Effluent, Commercial Waste Water, Industrial Effluent |
| Brand | Aeolus XERODROP ETP |
| Inlet Water Quality | Industrial & Hazardous Waste water |
| Condition | New |
| Treated Water Quality | Meets CPCB discharge norms |
| Manufacturing Lead Time | 4-12 weeks |
| Control Module | Control Module Available |
| Treatment Stages | Advance Oxidation Processes,Electro-Coagulation,Electro-Oxidation,Electro-Floatation,Filtration,UV Radiation,Photo Catalytic Oxidation,Ozonation |
| Feed Flow Rate (cubic meter/hour) | 01 to 200 |
| Installation Type | Prefabricated, Containerized Plug & Play,Skid Mounted,Compact |
| Max Water Recovery Rate | 95% |
| Number of Filtration Passes | 3 |
| PH Level | input 5.5 to 6.5, Output 6.5 -7.5 |
| Treatment Process | Electro-Coagulation, Electro-Oxidation, Advanced Oxidation Processes, Ozone, UV, Non Biological |
| Warranty | 1 year |
| Working voltage range(volt) | 220 V AC / 430 V AC |
| Filtration Grade | 5 micron |
| Impurities to be removed | COD, BOD, TSS, Organics, Complex Pollutants |
| Order Placement Through Tender | NO Tender |
| Oxygen Requirement | NO AERATION required |
| Performance Bank Guarantee | Yes on Demand |
| Automation Grade | Semi-Automatic |
| Industry | Pharmaceutical Industry |
| Material | FRP |
| Toxic Gas Emission | NIL |
| Plant Type | Effluent Treatment Plant |
| Capacity | 01 M3/day to 1000 M3/day |
| Treatment Technique | Electro-chemistry based Advanced Oxidation Process |
| UV lamp | 44 W |
Trade Information
4 Week

Contact us for information regarding our sample policy
West Bengal, Uttarakhand, Uttar Pradesh, Tripura, Telangana, Tamil Nadu, Sikkim, Rajasthan, Pondicherry, Punjab, Odisha, Nagaland, Manipur, Meghalaya, Mizoram, Maharashtra, Madhya Pradesh, Lakshadweep, Kerala, Karnataka, Jharkhand, Jammu and Kashmir, Himachal Pradesh, Haryana, Goa, Gujarat, Daman and Diu, Dadra and Nagar Haveli, Delhi, Chandigarh, Chhattisgarh, Bihar, Arunachal Pradesh, Assam, Andhra Pradesh, Andaman and Nicobar Islands, West India, East India, North India, Central India, South India, All India