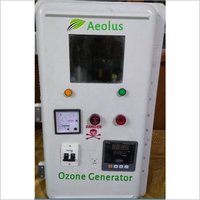 Ozone for Air Pollution Control
Price And Quantity
Product Specifications
Product Description
Ozone generators are being promoted as an effective method to control air pollution and Odors. Available scientific evidence shows that ozone concentrations that are safe to breathe are unlikely to be effective in controlling air pollution.
Aeolus offers state of the art systems that effectively control NOX, SOX, VOC – volatile organic load in flue gases, chimney- stack emissions.
In your industry, however best would be your stack emission control air filters, still you would be facing leakages and undesired levels of NOX, SOX and VOC. For most of the industries, pollution control authorities have installed stack quality monitoring devises on the chimney. Most of the industry are facing serious charges due to undesired emission quality despite latest equipments installed.
For hazardous solid / liquid waste storage sites and composting farms, air quality is highly compromised and frequently faces public protests and pollution control authority's legal actions.
Share your problems with reports and details of your system with Aeolus, we will offer you an affordable solution for all your air stack emissions and flue-gas emission issues. Our systems are proven and time tested. Our systems shall control all your undesired emissions.
An ozone generator is a device designed to produce the gas ozone. Ozone is used effectively in water purification, but ozone in air must reach high levels to remove air pollutants.

While ozone is very powerful, it has a very short life cycle. When it is faced with odors, bacteria or viruses the extra atom of oxygen destroys them completely by oxidation. In so doing, that extra atom of oxygen is destroyed and there is nothing left...no odor...no bacteria...no extra atom, only oxygen.

Ozone Sterilize, disinfect and remove odor with cleaning effect for places like fresh food supermarket, restaurant, kitchen, freezer warehouse, traditional market, aquaculture, garage, etc
Foulodour or bad smell is a huge challenge for industries, hospitals, institutions,malls, cinema & multiplex, food plaza and food factories, chemicalindustries, public toilets, sewage treatment plant, effluent treatment plants,flue gas and stack emissions, community halls, hotels and restaurants, fish,chicken and meat shops, poultry farms, hatcheries, ponds, swimming pools,overhead water tanks, underground water tanks, drinking water systems, airconditioned offices and commercial complexes, onion storage and drying beds,food grain storage, solid waste storage and composting sites, sludge handlingsystems, mega kitchens, cold storages, horticulture systems, aquaculture,fodder storage, fish food storage, plastic recycling units, waste paperstorages, chemical storages, hazardous chemical storages, commercial laundry,pharmaceutical product storages, humus storage, pet rooms, pet clinic, pet foodstores, stud farms, cow-buffalo-goat-sheep shelters, Volatile Organic Compound(VOC) emission and almost allmanufacturing – storage and handling points.
Foulsmells are generated due to various reasons like emissions from product orusers, thermal and biological decomposition or biological contamination,volatile organic compounds (VOC) and gas emissions like ammonia, H2S, alcoholevaporation, moisture, fungi and many more. All this lead to allergicconditions, discomfort, poor ambience, poor hygiene and many a times legalproceedings from public or pollution control authorities.
Wastewatertreatment plants frequently undergo septic conditions due to anaerobicconditions generated in aeration ponds.
Ponds,aquaculture tanks and water storages generates foul smell by nitrification andbiological decomposition of organic material at their bottom commonly referredas putrefaction.
Conventionalsolutions to foul odour or foul smell management & control mainly comprisesor masking agents like biocides, disinfectant chemicals, deodorizers, freshenerperfumes, volatile oils, camphor and chemical masking agents.
Aeolusoffers novel solutions for oxidizing and disinfection of the material &fumes generating foul odours. The foul smell is cured and not masked!
Oursolutions are mainly based on ozone and other nonchemical interventions thateffectively treats air stack emissions and flue gases to the desired norms. Contactus now!.

Trade Information
10 - 100 Per Month

1-6 Week
Contact us for information regarding our sample policy

Africa, Middle East, Asia
Central India, Chhattisgarh, Telangana, Bihar, West Bengal, Manipur, Chandigarh, East India, Odisha, Daman and Diu, Dadra and Nagar Haveli, Himachal Pradesh, Lakshadweep, Delhi, Assam, Sikkim, Tripura, West India, Jammu and Kashmir, Pondicherry, Jharkhand, Meghalaya, North India, Uttarakhand, South India, Tamil Nadu, Uttar Pradesh, Kerala, Goa, Andaman and Nicobar Islands, Mizoram, Arunachal Pradesh, Punjab, Andhra Pradesh, Karnataka, Nagaland, Haryana, Rajasthan, Maharashtra, Madhya Pradesh, Gujarat, All India