Water disinfection system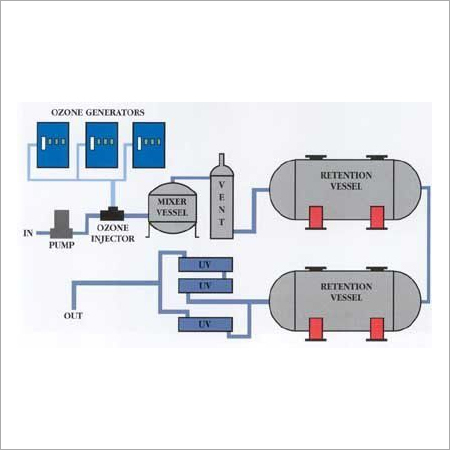 Water disinfection system
Price And Quantity
Product Specifications
as per your need

Advanced Oxidation Process
1 and more Kilowatt (kW)

100%
230 V AC Ampere (amp)

as per your requirement Liter (L)
Full Automatic

SS 304 SS 316
AC

water disinfection and bio fouling control system
Product Description
Aeolus offers tailor made solutions for domestic, commercial and industrial water disinfection systems. We have variety of technologies like advanced oxidation processes, ozone generators, electro-chlorinators, electro-oxidation reactors, deep penetrating Ultra Violet radiation and micron filtration for non-chemical disinfection.
Our ZERO CHEMICAL water disinfection systems are applicable to:
Drinking water disinfection in home, hospital, school, factory, hotels, offices & public places.
Wastewater disinfection in Sewage & Effluent treatment plants
Cooling tower water disinfection for industries and commercial building
Process water disinfection in food, chemical and pharmaceutical industries.
Pre-treatment to RO purification
Sea water disinfection for power plants and desalination plants
Fire water tank disinfection for long term storage
Industrial and commercial Water treatment plants
Disinfection system for Overhead water tank storage
Disinfection system for Municipal & rural water supply
Disinfection systems for Packaged drinking water treatment plants
Disinfection system for Borewell and open well water
Disinfection system for tapwater
Swimming pool water disinfection

Product Details:
| | |
| --- | --- |
| Type | Waste Water Treatment |
| Treatment Technique | Advanced Oxidation Process |
| Automatic Grade | Semi-Automatic |
| Feed Flow Rate | 500 m3/day, 1000 m3/day, 50 m3/day, 100 m3/day, 2000 m3/day |
| Design | Customized |
| Water Source | Industrial Effluent |
| Brand | XERODROP AOP |
| Treated Water Quality | As per CPCB Norms |
| Treatment Stages | Disinfection, Advanced Oxidation Processes, Tertiary Treatment |
| Installation Type | Prefabricated, Containerized Plug & Play,Skid Mounted |
| Industry | Distillery |
| Function | Multi Effect Evaporator Condensate Treatment |
| Manufacturing Lead Time | 4-12 weeks |
| Usage/Application | Multi Effect Evaporator Condensate Treatment |
| Max Water Recovery Rate | 95% |
Frequently Asked Questions
1. What is water disinfection?
Water disinfection is the process of eliminating or reducing harmful microorganisms from contaminated water in order to make it safe for human consumption. This process is used to treat drinking water, swimming pool water, and wastewater.
2. What are the different types of water disinfection systems?
There are several types of water disinfection systems, including ultraviolet (UV) light systems, chlorination, ozonation, and reverse osmosis.
3. How does UV light disinfection work?
UV light disinfection works by exposing the water to ultraviolet light, which disrupts the DNA of microorganisms and makes them unable to reproduce, thus eliminating them from the water source.
4. What are the benefits of water disinfection?
Water disinfection provides the following benefits: it eliminates harmful microorganisms from drinking water, it reduces the risk of waterborne illnesses, it can help reduce the spread of waterborne diseases, and it can help improve the taste and odor of drinking water.
Trade Information
Contact us for information regarding our sample policy

skid mounted systems available
Chandigarh Himachal Pradesh Tripura Manipur Andaman and Nicobar Islands Uttarakhand Dadra and Nagar Haveli Kerala Daman and Diu South India East India West India Assam Arunachal Pradesh Bihar Delhi Gujarat Goa Haryana Jammu and Kashmir Jharkhand Lakshadweep Madhya Pradesh Maharashtra Mizoram Meghalaya Nagaland Odisha Punjab Pondicherry Rajasthan Sikkim Tamil Nadu Telangana Uttar Pradesh West Bengal Karnataka North India Andhra Pradesh Central India Chhattisgarh All India